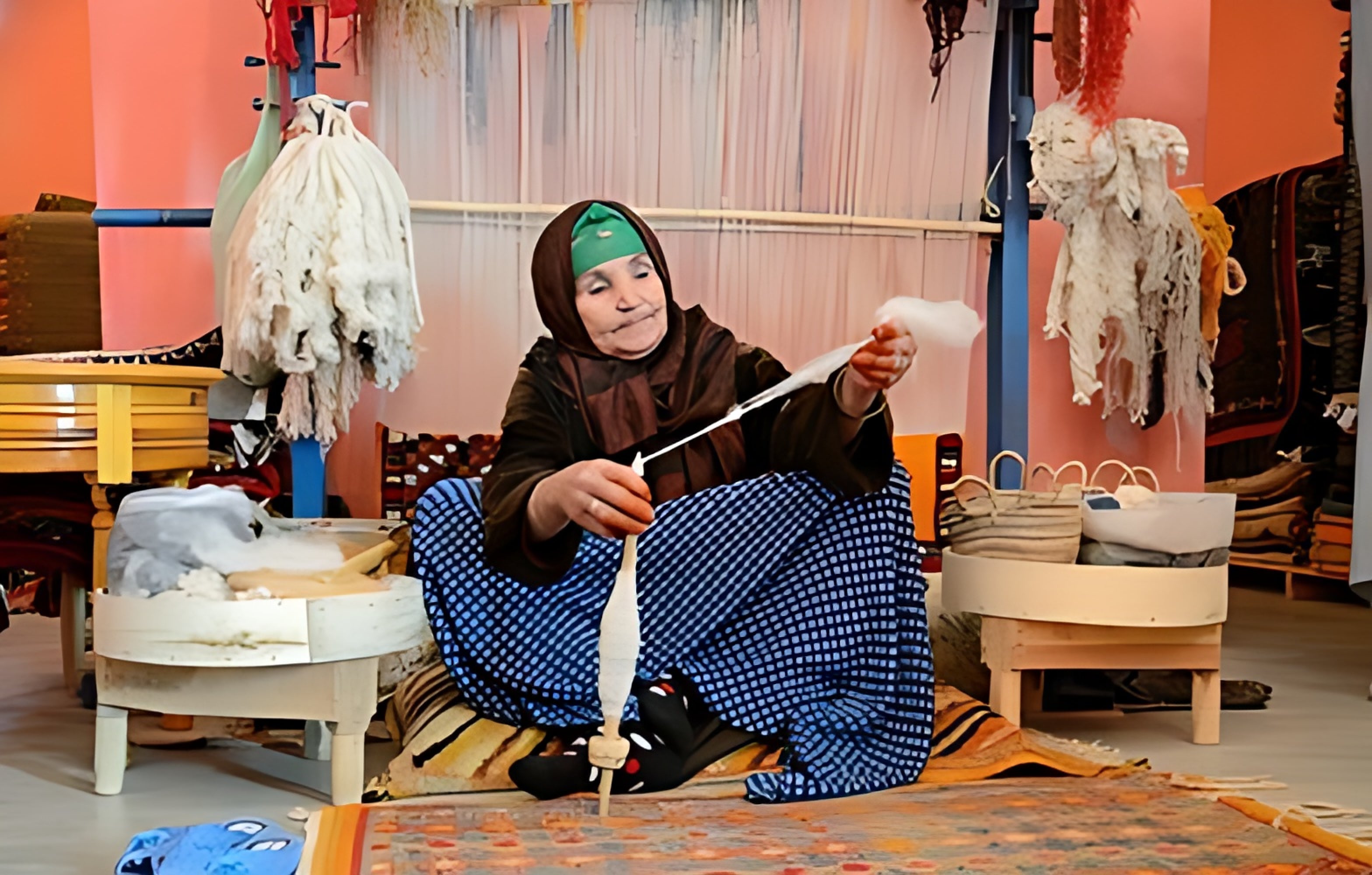 Moroccan rugs are steeped in history, and there's no better place to dive into this heritage than the vibrant medina of Marrakech. Crafted meticulously by hand by Moroccan rural women employing age-old techniques, these rugs are emblematic of Moroccan culture and lineage, showcasing designs influenced by Berber tribes and the surrounding landscape. Recognized as some of the premier handmade rugs globally, numerous individuals journey to Marrakech explicitly to procure them.
For ages, Marrakech has served as the epicenter of the Moroccan rug trade, being the residence for many of the nation's elite weavers and craftspeople. Roaming the labyrinth-like streets of Marrakech, one can stumble upon rug shops hidden behind grand wooden entrances. Exhibits range from vibrant zellige tile patterns, hand-woven wool Berber rugs to silk and linen alternatives for warmer environs. Each creation is an individual masterpiece, echoing the artisan's unique flair. Marrakech promises a rug for every aficionado, regardless of size or design preference.
Moroccan Rug Styles
Gaining insights into the varied styles of Moroccan rugs is beneficial for potential buyers. Over time, specific rug styles have evolved, influenced by their region of origin, weaving methods, and primarily, their designs.
One renowned Moroccan rug style is the Beni Ourain rug. Crafted by the Berber community of the Beni Ourain tribe, a tribe rooted in North Africa's Atlas Mountains for millennia, these rugs utilize organic materials like wool and are characterized by bold, geometric patterns in diverse shades. They are celebrated for their robustness, often enduring years of wear and tear.
Tips on How to Buy Moroccan Rugs in Marrakech
For those keen on acquiring a Moroccan rug in Marrakech, a few guidelines are worth noting. Firstly, invest time in identifying a trustworthy dealer who showcases genuine, high-caliber rugs. Several Marrakech Bazars display imitations made from artificial materials and inferior dyes. Choosing a knowledgeable and credible dealer is paramount.
Bargaining is an integral part of Marrakech's shopping culture. Aspiring rug owners should be prepared to haggle. It's exhilarating, but remember that initial prices are typically inflated, providing room for negotiation. Trust your instincts, and don't hesitate to walk away if a deal doesn't sit right.
Experience the Splendor of Moroccan Rugs from Home with Our Website
Should you find Marrakech out of reach but still desire a Moroccan rug, you're in luck! The Wool Rugs offers a diverse array of premium Moroccan rugs. We are dedicated to delivering a curated range of genuine, eco-friendly Moroccan rugs at attractive price points. Our platform showcases an expansive collection, all crafted with traditional techniques and materials. We're proud of our pledge to uplift Moroccan artisans and advocate for sustainable methods in the rug industry. If a slice of Morocco is what your home needs, explore our website for an authentic Moroccan rug collection.