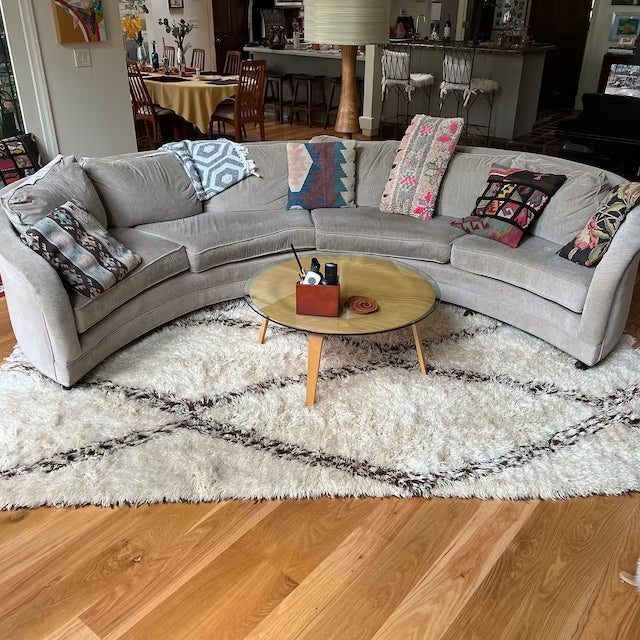 The allure of the Moroccan rug, especially the Beni Ourain, cannot be overstated. As an emblem of rich cultural traditions and impeccable craftsmanship, these rugs have become a sought-after treasure in homes across the globe. But how can one distinguish a genuine Beni Ourain from its counterpart? Let's dive into the captivating world of Moroccan Berber rugs and unravel their secrets.
Understanding the Moroccan Berber Rug
The Wool Rug - The Pinnacle of Comfort and Durability
The Wool Rug stands out as an essential element in the lineup of Moroccan rugs. Renowned for its high-quality material, it exudes both comfort and durability. A genuine Moroccan Berber rug made of wool isn't just a mere floor covering; it's a piece of art steeped in history and tradition. The tactile sensation of walking on one of these plush rugs is unparalleled, making them an irreplaceable addition to many households.
Beni Ourain Rug vs. Other Types
The Moroccan Berber rug domain is diverse, but among them, the Beni Ourain Rug stands out with distinction. Recognized for its characteristic diamond patterns and neutral hues, this rug is a perfect blend of modern aesthetics and traditional design. While there are numerous Moroccan rugs available, the Beni Ourain, with its timeless design and plush texture, remains an eternal favorite.
Purchasing the Perfect Moroccan Rug
Buy Vintage Beni Ourain Berber Moroccan Rug
When it comes to authenticity and rich heritage, nothing beats the Vintage Beni Ourain Berber Moroccan Rug. These rugs have been hand-woven by the Berber tribes of Morocco for centuries, making each piece unique in its design and story. While purchasing, look out for signs of age, wear, and handmade imperfections – these are the true markers of an authentic vintage rug.
Navigating Through Modern Beniouraincarpets and Beni Rugs
While the vintage allure is irresistible, modern-day Beniouraincarpets and Beni Rugs offer a broader range of designs and sizes, perfect for contemporary settings. When buying these, it's essential to ensure that the rugs are handwoven and made of natural fibers. Brands like Beni Rugs have established a name for themselves in this domain, ensuring quality with a touch of modernity.
Customizing Your Moroccan Rug Experience
Opting for a Custom Beni Ourain Rug
For those with a specific vision in mind, opting for a Custom Beni Ourain Rug or Custom Moroccan Rugs can be the way forward. This allows buyers to select the size, design, and colors that fit their interiors perfectly. By personalizing your rug, you can incorporate both tradition and individuality into your living space.
Why Consider a Custom Area Rug?
Apart from aesthetic alignment, a Custom Area Rug provides practical advantages. It ensures that the rug complements the room's dimensions, enhancing its overall appearance. Additionally, by tailoring the rug to your specifications, you're not just getting a floor covering but a piece of art that resonates with your personal style.
Conclusion
In the vast world of home décor, the Moroccan Berber Beni Ourain rug holds a place of reverence. Whether you're inclined towards a vintage masterpiece or a modern adaptation, the journey of selecting the perfect rug is indeed enriching. As you tread this path, remember to look out for authenticity, quality, and a connection to the rich Moroccan heritage. With these in hand, your home is set to embrace a timeless piece that not only enhances its beauty but also tells a story of traditions, art, and impeccable craftsmanship.